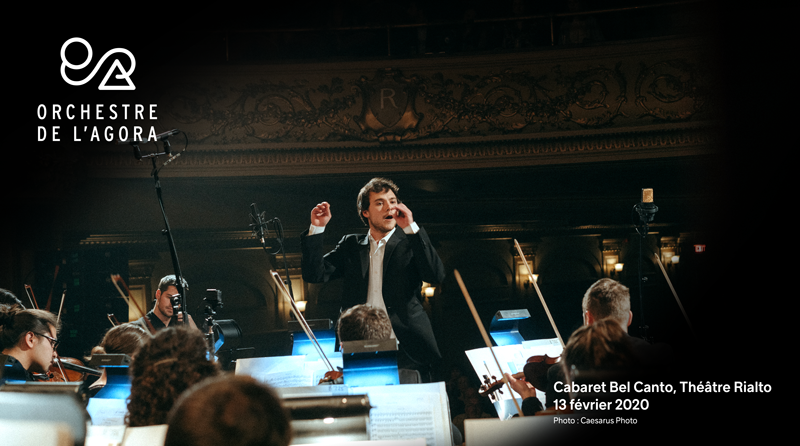 7 April 2020
We hope that this period of containment and great upheaval still finds you in good shape. This unprecedented crisis, which is affecting us all to varying degrees, calls for reflection and brings us back to basics, particularly to the arts, culture and music. It is a time that makes us realize how important music is in our lives, because without it, the current situation would be all the more painful. Ironically, however, the pandemic makes it impossible to perform any form of art before an audience and plunges the cultural scene into uncertainty.
At the Orchestre de l'Agora, we had to abruptly interrupt our tour of Quebec in string orchestra format; this tour was supposed to end in March with four unfortunately cancelled concerts in Pointe-aux-Trembles, Lévis, Victoriaville and Montreal. The most ambitious project of our season, the Gala de la terre, scheduled for April 22, is cancelled. We will still donate the funds raised for the three environmental beneficiary organizations of Gala de la terre.
The list of cancellations is growing throughout the summer. The current circumstances will greatly disrupt our activities in the upcoming months and affect our revenues. However, this is a period that allows us to develop certain projects that are important to us, to continue to build the Orchestra's structure and to prepare with our conductor Nicolas Ellis the 2020-2021 programming, which we look forward to unveiling to you.
To help us get through this crisis and continue our activities and development, you can make an online donation by clicking here.
We also accept donations by cheque, by mail :
40, avenue Querbes, apt. 10, Outremont (QC) H2V 3V6
Your donation would be more useful to us than ever and would help our musicians and support our social mission. Every donation counts, and every amount is appreciated! The Orchestre de l'Agora is a registered charity organization recognized by the Canada Revenue Agency 813209939RR0001. We can issue tax receipts for donations of $25 and more.
As a sign of solidarity with musicians, artists and other cultural organizations, we also invite you to waive the reimbursement of tickets already paid for cancelled events, if you can afford it.
Music is more essential than ever in these uncertain times. We hope to see you at one of our concerts in the upcoming months!

Sincerely,

Jean-Frédéric Caron
Executive Director, Orchestre de l'Agora