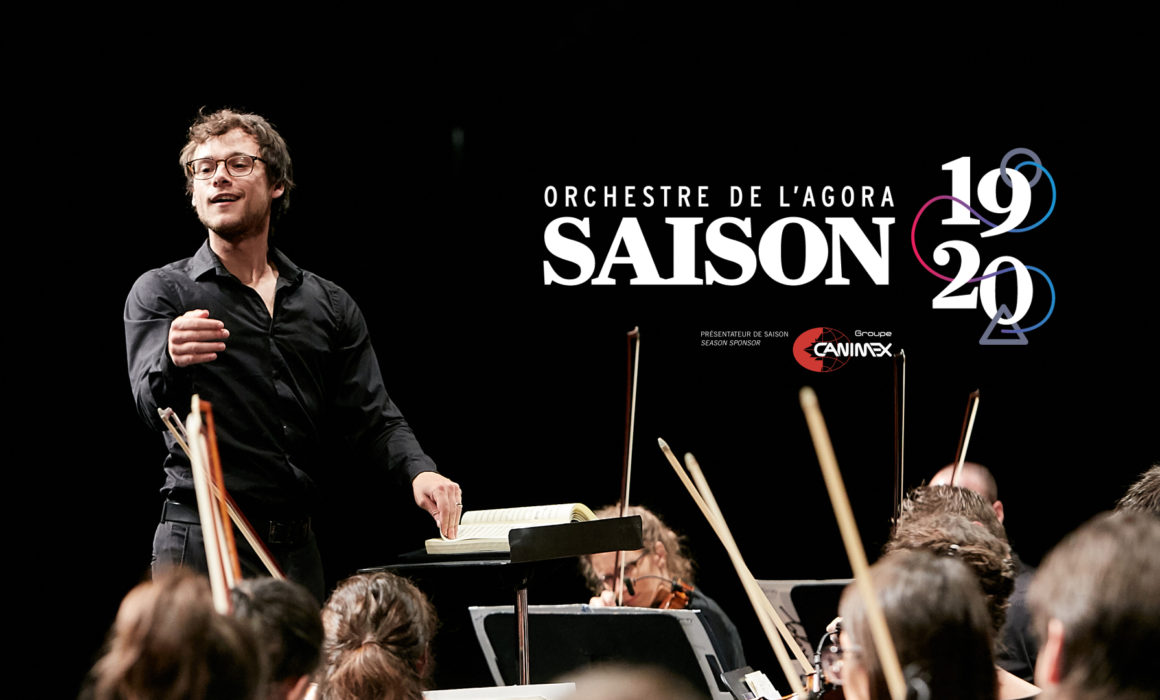 10 September 2019
The 7th Artistic season of the Orchestre de l'Agora, led by Conductor Nicolas Ellis, begins in November 2019. This season is a turning point.
Not only will the ensemble be seen and heard across Quebec with a first tour, but its social and community bases will be solidified with relevant and major projects, including the participation in the long awaited Gala de la terre. More than 20 concerts are on the calendar this season!
A first tour
A 17-concert tour is awaiting the Orchestra, from the Montreal area to the Bas-Saint-Laurent. Ten of these 17 concerts will be held as part of the Conseil des arts de Montréal en tournée, a forum that allows several Montreal cultural organizations to bring music to every corner of the Island of Montreal, every year. For this tour, Nicolas Ellis has developed programs that will highlight the music of Nordic composers, including Grieg and Bartók. The Orchestra, in string orchestra format, will be composed for the occasion of 15 spirited and talented musicians!
Program 1
Grieg : Holberg suite for strings, Bartók : Divertimento for strings, Tchaikovsky : Serenade for strings
November 7, 2019, 8 pm – Maison de la culture Claude Léveillée, Montreal
November 8, 2019, 8 pm – Juliette-Lassonde Center, Saint-Hyacinthe
November 9, 2019, 8 pm – Maison de la Culture Mercier, Montreal
November 10, 2019, 3 pm – Diffusion de la coulisse, Beloeil
November 12, 2019, 7:30 pm – Quai 5160, Verdun
November 15, 2019, 8 pm – Stewart Hall, Pointe-Claire
Program 2
Grieg : Holberg suite for strings, Bartók : Divertimento for strings, Tchaikovsky : Serenade for strings
January 26, 2020, 3 pm – Théâtre du Vieux-Terrebonne
January 30, 2020, 7:30 pm – Maison de la culture Janine Sutto, Montreal
February 1, 2020, 8 pm – Centre culturel, Rivière-du-Loup
February 2, 2020, 3 pm – Maison de la culture Rosemont, Montreal
February 8, 2020, 7:30 pm – Émile-Legault Hall, Ville Saint-Laurent
February 9, 2020, 3 pm – Salle Pauline-Julien, Sainte-Geneviève
Program 3
Stravinsky : Concerto for strings, Grieg : Holberg suite for strings and Tchaikovsky : Serenade for strings
March 26, 2020, 8 pm – Maison de la culture of Pointe-aux-Trembles
March 27, 2020, 8 pm – L'Anglicane, Lévis
March 28, 2020 8 pm – Carré 150, Victoriaville
March 29, 2020, 3 pm – Chapelle historique du Bon-Pasteur, Montreal
Bach Festival
For a fifth year, the Orchestra is invited by the Bach Montreal Festival to present an original youth concert, in which music will interact with tales. From year to year, this concert attracts more and more young families who wish to present classical music to their children. On Saturday, November 16 at 2 pm, a ten-musician orchestra will perform the Suite in B minor for Flute and Strings and Johann Sebastian Bach's Concerto for 2 Violins in D minor, as well as Antonio Vivaldi's Concerto for Piccolo. For the occasion, three section Principals of the Orchestra will be featured in solo roles: concertmaster Chloé Chabanole, Principal Second violin Julien Patrice and solo flutist Noémie Caron-Marcotte. The concert will be Conducted by Nicolas Ellis, who will also be at the harpsichord.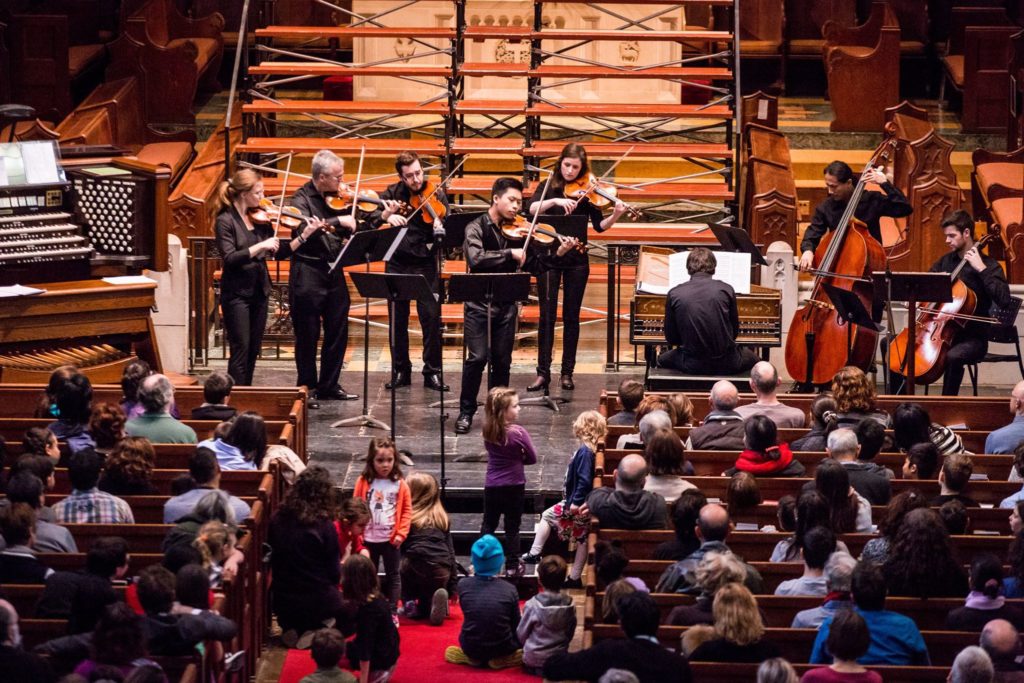 NEW : a unique collaboration with l'Atelier lyrique de l'Opéra de Montréal
After the public and critical acclaim of the last two original collaborations with the Atelier lyrique de l'Opéra de Montréal, it was normal to continue to develop artistic projects with this great institution. The Orchestra begins in 2019-20 a mandate as the official orchestra of the Atelier, and will work closely with the ten young singers. Nicolas Ellis and the Orchestra will have the opportunity to work for 20 hours of rehearsal with the soloists various airs that they will most likely have to sing during their career. This unique initiative in Canada allows Atelier Lyrique to stand out and become the only stepping stone for professional development for opera singers to hold an orchestra in residence.
After all those rehearsals, the Orchestra will present a large concert in collaboration with the Atelier on Thursday, February 13, 2020 at 7:30 pm at the Rialto Theater. This concert Cabaret Bel Canto will be an opportunity to hear the best young Canadian singers in a casual "cabaret" atmosphere. On the program : famous airs and ensembles in the bel canto style of Bellini, Donizetti and many others composers! This concert will be with an orchestra of 37 musicians and 10 soloists. More details TBA.
Gala de la terre
As part of the 250th anniversary of Beethoven, orchestras from all around the world have created a global ecological movement, programming its Symphony No. 6, called Pastoral. At the invitation of Sierra Club Canada, the Orchestre de l'Agora will participate in a major benefit concert at Arsenal for the 50th anniversary of Earth Day, on April 22, 2020. The Orchestra will perform this Beethoven Symphony No. 6, a work inspired by Man and nature.
Rallying and teamwork is at the heart of all environmental actions. In this regard, the orchestra is not only proud to participate in this event for the benefit of three different organizations, but also to bring together on the same stage the Montreal Symphony Orchestra's Principal Concertmaster, Andrew Wan, and the Principal Concertmaster of the Orchestre Métropolitain, Yukari Cousineau, that you will hear at the viola in Mozart's Sinfonia Concertante for violin and viola. All the profits will be donated to the Sierra Club Canada Foundation, Nature Conservancy of Canada and Earth Day for their work on the St. Lawrence River Estuary. The evening will be under the honorary presidency of explorer Bernard Voyer.
Mentoring and music lessons for children
The Orchestra wishes to multiply in the coming years its community initiatives through its musicians. Thus, the collaboration with the Share the Warmth Foundation, in Pointe-Saint-Charles, will continue for the 5th year in a row! Orchestra musicians teach and participate in orchestra rehearsals (conducted by Nicolas Ellis) on a monthly basis. The collaboration also continues with Les Porteurs de musique, which sends musicians to places where people do not have access to music, such as psychiatric centers, prisons, elderly homes and shelters for women.
The 2019-2020 season promises to be busy and already memorable!